Buying gifts for the family can be hard! It seems like there is always one or two hard to shop for people on your list. So this year, we are taking the guessing out of gift buying by giving you a few unique ideas for the hard-to-shop for.
For young athletes always lugging around their sports equipment and for adults as the ultimate garage or man cave accessory, Gladiator GarageWorks PrimeTime™ Lockers make the perfect gift. Now they can organize their gear and show support for their home team. Lockers are available in more than 15 collegiate-licensed schools. Ideal for the garage, basement or home gym, these durable lockers provide the same type of organization space as today's top college student-athletes.
T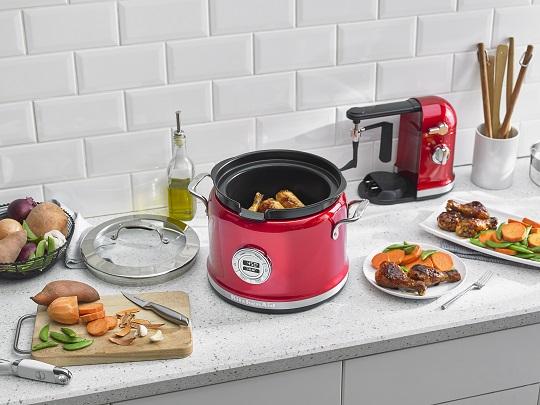 he Culinary Aficionado
Home cooks likely to multi-task in the kitchen during the holidays should consider one of the latest countertop cooking appliances from KitchenAid®: a four quart Multi-Cooker with stir tower, providing 10 cooking functions, step-by-step cooking modes and a stirring accessory that allows for assisted cooking at precise temperatures.
The Multi-Cooker's pre-programmed settings take the guesswork out of preparing such essentials as rice, risotto, soup and yogurt. Each setting provides cooks with next step instructions to help deliver perfect results. Additional cooking modes include simmering, sautéing, searing, steaming and two slow cook options, all of which can be programmed for up to 12 hours of cooking, plus a Keep Warm function that can be programmed for up to 24 hours. The Multi-Cooker automatically sets the temperature for each setting, while the brand's Even-Heat™ technology allows for precise temperature regulation between 110° – 450° F to prevent under or over cooking.
The 3-speed stir tower accessory mixes, flips and stirs ingredients to keep them consistently incorporated and evenly heated. Once attached to the Multi-Cooker, a speed dial can adjust the stir tower settings to handle everything from stirring vegetables to heavy stew. The flipping paddle, combined with a flex edge-scraping blade, stirs and scrapes around the cooking vessel to keep foods like batters and sauces from sticking to the sides. The Multi-Cooker is currently available in Candy Apple, Onyx Black and Stainless.
Take an all-in-one approach to garage organization with the GearTrack Pack Deluxe Starter Kit. This kit provides the perfect solution to get hoses, gardening tools and power equipment off the floor and onto the wall, keeping items organized and within reach. This kit includes GearTrack® channels, hooks and accessories. Perfect for any garage guru!
The Coffee Connoisseurs
Coffee connoisseurs will have a reason to skip the trip to the coffee house this holiday season thanks to the new KitchenAid® Siphon Coffee Brewer, designed to deliver the bright, rich taste of siphon coffee with the convenience of an automated home system. The Siphon Coffee Brewer features vacuum technology that fully immerses the grounds in water to create a more complex flavor profile.
Constructed of premium glass with stainless steel accents, the brewer also includes a reusable stainless steel filter that is simple to clean and eliminates the waste created by disposable filters. A strong magnetic interlock system secures the top and bottom carafes together to ensure a tight seal for brewing, while a dual-purpose lid sits on top of the unit during brewing and then attaches to the carafe for pouring. The Siphon Coffee Brewer is available in Onyx Black, Silver and Slate.
The durability and functionality of Gladiators signature workbench is now available in a more modular footprint. With 360 degree swivel casters, a solid hardwood top and a reversible shelf, the mobile workstation allows consumers the flexibility they need to work on any project.
The Health Nut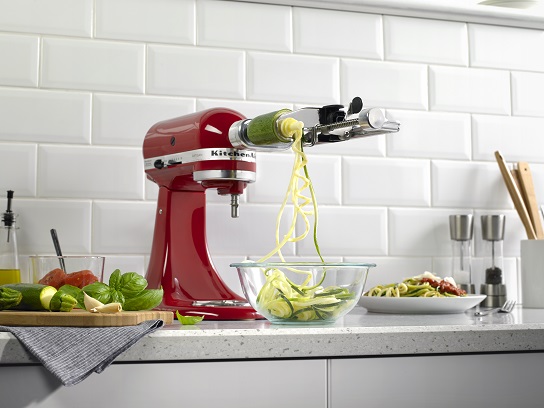 Cooks looking to eat healthier or simply expand their recipe repertoire during the holidays can take advantage of the new KitchenAid® spiralizer attachment for the essential and iconic Stand Mixer.
Featuring five blades with up to nine combinations of spiralizing, slicing, peeling and coring, the attachment offers endless possibilities for fruit and vegetable preparation. As a healthy alternative to flour based pasta, a fine spiral blade turns vegetables, such as zucchini or squash, into thin, noodle-like strands. A medium blade spiralizes potatoes for casseroles and potato pancakes, or winter root vegetables for roasted rutabaga or butternut squash dishes. Separate slicing blades can be used for creating spirals of fresh fruits or vegetables with little to no cores, such as carrots, or those with larger cores, including apples and pears.
The spiralizer features durable metal construction and a storage case for convenient organization of both the unit and its dishwasher-safe accessories.
The Baking enthusiast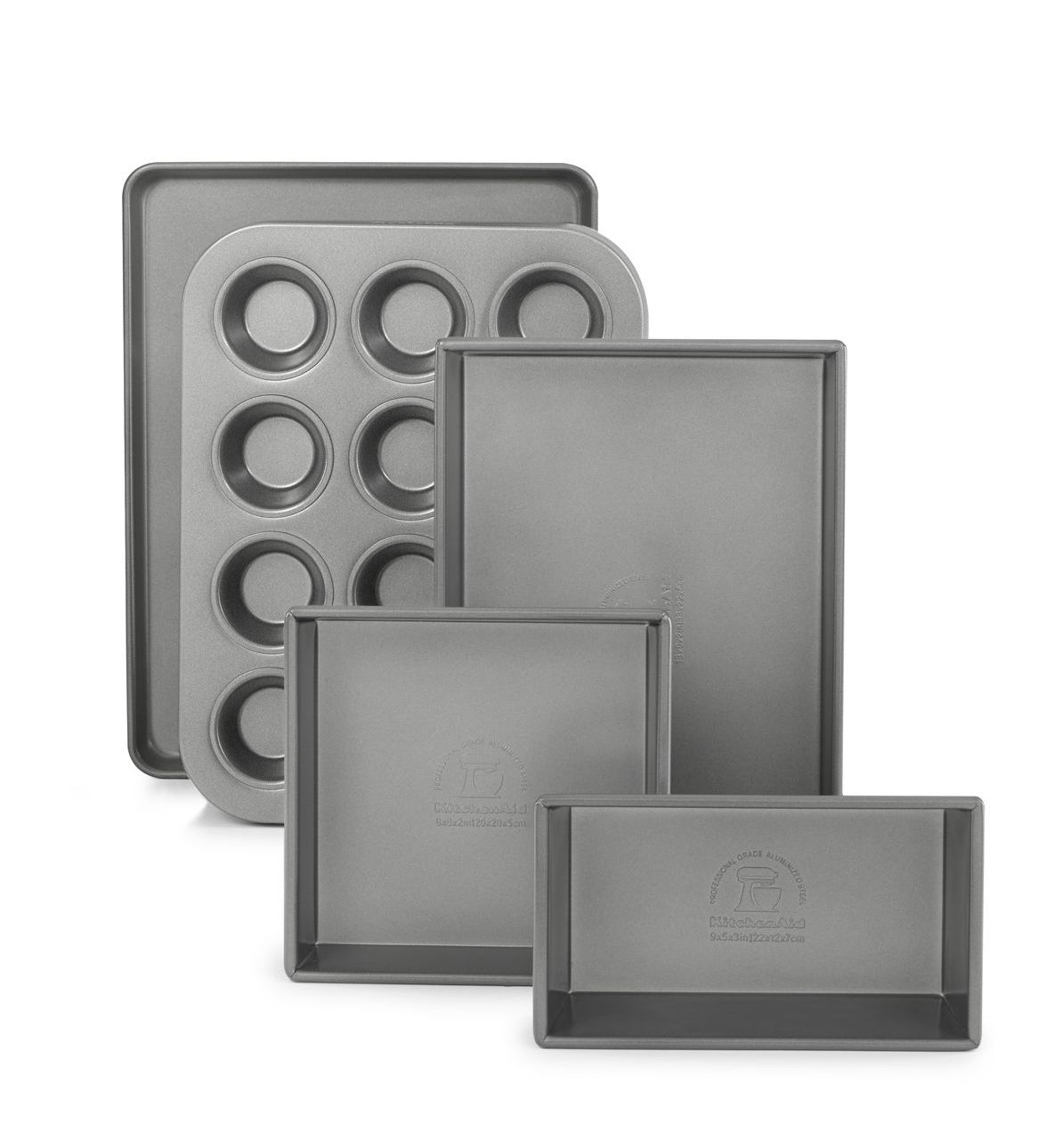 he KitchenAid® Professional 5-piece bakeware set makes a great gift for cooks and bakers of all levels. The set includes a loaf, square, cake, 12-muffin and jelly roll pan, providing an essential collection that can be built upon with individual, specific-purpose pieces over time.